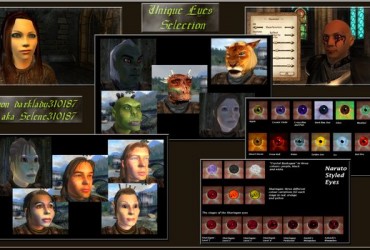 Beschreibung:
Diese Mod beinhaltet meine selbst erstellten "Eyes of Destiny" und "Naruto Styled Eyes" aus "Sadran - Volk der Assassinen", die ich nun als einzelnes Pack und unabhängig von dieser Mod release. Es ist eine Sammlung von 48 Augen für die Standard-Rassen.
Die Texturen basieren auf den Standard-Augen-Meshes. Falls gewünscht, mache ich auch eine Anpassung auf die Elaborate Eyes Meshes.
Eyes of Destiny: 12 verschiedene Augentexturen, zu denen es zusätzlich Versionen mit Glow-Effekt (im Dunkeln leuchtend) gibt.

Naruto Styled Eyes: Eine Auswahl von Augen, die dem Anime Naruto nachempfunden sind. Diese Auswahl besteht aus den unterschiedlichen Stadien der Sharingan Augen, die jeweils in drei Farbvariationen (rot, orange, gelb) vorliegen, und dem "Crystal Byakugan" in violett, schwarz und weiß.

Wenn ihr die Augen einer Nicht-Standard-Rasse hinzufügen möchtet und nicht wisst, wie das geht, so befindet sich im Readme ein Link zu einem Tutorial.
Viel Spaß!