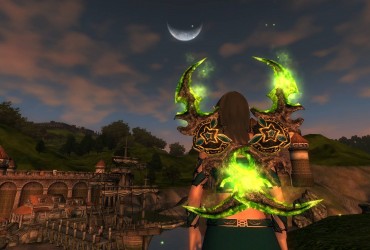 Beschreibung:
Ich habe die Warglaive of Azzinoth (Warcraft 3/world of Warcraft) nachgebaut. Dies ist die zweite Version meiner Mod.
Was ist neu?
in Flammenpartikel-Effekt ähnlich wie der Effekt der originalen Warglaives from WoW (World of Warcraft)

höher aufgelöste Texturen (niedriger aufgelöste sind als Option verfügbar)

Azzinoth (der Hauptgegner) hat einen neuen Unterschlupf bekommen

jede Warglaive-Variante ist nun im Construction Set mit einem eigenen Eintrag vorhanden. So brauchst du keine Texturen mehr
ersetzen, wenn du eine andere Variante nutzen möchtest

eine Gold-Silber-Variante wurde hinzugefügt

Wo finde ich die Glaives?
Du findest sie in Azzinoths Versteck. Der Zugang ist in Beldaburo Anga, der zweite Level von Beldaburo, versteckt. Beldaburo
ist eine Ayleiden-Ruine nordöstlich von Anvil. Azzinoth, der die waffen mit seinem Leben bewacht, hat einen Level von 20.
Dein Charakter sollten einen ähnlichen oder höheren Level haben.

Gibt es irgendwelche Hinweise?
Suche nach einem Wandschalter mit einem roten Welkynd-Stein in der Mitte.

Anmerkung:
Das Download-Archiv enthält bereits das Update "No Sheath Scripts" im gleichnamigen Unterordner. Das Update deaktivert die Sheath(Waffenwechsel)-Skripte. Es ist für diejenigen, die mit diesen Skripten Probleme haben und/oder den Oblivion Script Extender nicht nutzen.