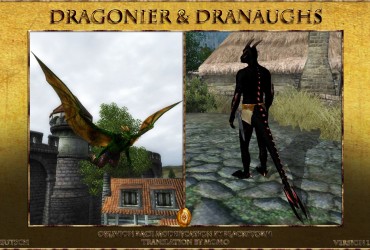 Dragorian and Dranaugh Races DV

Dieses Plugin enthält drei neue Rassen basierend auf den Argoniern. Das besondere an diesem Plugin ist, dass eine der Rassen, die Dragonier, Drachen ähneln. Sie haben eine eigene Flug-Animation und einen passenden Skript. Die Dranaughs haben keine Flügel, sind aber hervorragende Assassinen. Die dritte rasse ist eine Hybride. Eine Mischung aus den ersten beiden. Sie können mit dem Schatten verschmelzen und im Dunkeln sehen und Leben aufspüren.
Alle drei Rassen besitzen Klauen und Füße. Möchte man lieber Stiefel und Handschuhe so muss man nur die "Dragogorian and Dranaugh (Keine klauen und Füße).esp" installieren.
Diese Übersetzung ist ein Projekt Kagrenacs Gilde und wurde mit dem EggTranslator übersetzt.